Flowerama Columbus
Voted Best Florist In Columbus Ohio
Flowerama Columbus and our team of talented floral designers are here to help you find the perfect flowers and plants to add beauty to your home while also making it healthier. We are a second generation, family owned and operated floral design firm. We have been voted best florist in Columbus Ohio 9 or 10 years in a row and operate 4 flower shops. Those shops are located in Columbus, Ohio | Reynoldsburg Ohio | Westerville Ohio | Whitehall Ohio. We opened our first location at the corner of Brice and Main Street in Reynoldsburg, Ohio on June 23, 1990. For the first five years of operation we were the highest volume Flowerama store in the country.
Flowerama Columbus has gorgeous wedding flowers. Our products are extremely fresh and selected with great care by our Wedding and Event Team. https://www.botanicawedding.com/
Lovely Wedding Bouquet
National Weddings Month is February
During the holiday season of Christmas and New Years, romance is in the air. The spirit of the season grasps us and many marriage proposals occur during this season of wonderment. Not surprising that this makes February the month when many weddings take place or plans begin. February has been appropriately named National Weddings Month by the National Association of Bridal Consultants!
More commonly weddings occur during the months of June, August and September. However, because of the numerous marriage proposals during the holiday season, wedding plans often begin to take shape in February. Couples start booking their venues, choosing their wedding attire and making careful selections for flowers and entertainment.
There are an estimated 2.4 million weddings that occur every year in the United States. Valentine's Day is often the romantic spark that initiates many marriage proposals. This day is second only to New Years Day when numerous proposals also occur. Some of the reasons couples like to get married in February and on Valentine's Day is that it makes it very special to have a wedding anniversary that occurs on Valentine's Day.
Each year in the United States, there are an estimated 2.4 million couples that get married.  It is no surprise that Valentines Day is the most romantic of the holidays. Second only to New Year's Day, there are many proposals during this time and couples like getting married on Valentine's Day so they have this special day to commemorate their wedding anniversary. Then there is the leap year factor causing some couples to get married on February 29th which occurs once every four years.
Our professional floral designers at Flowerama Columbus are eager to assist you with your wedding plans. We have fresh and elegant flowers for all events surrounding  your wedding!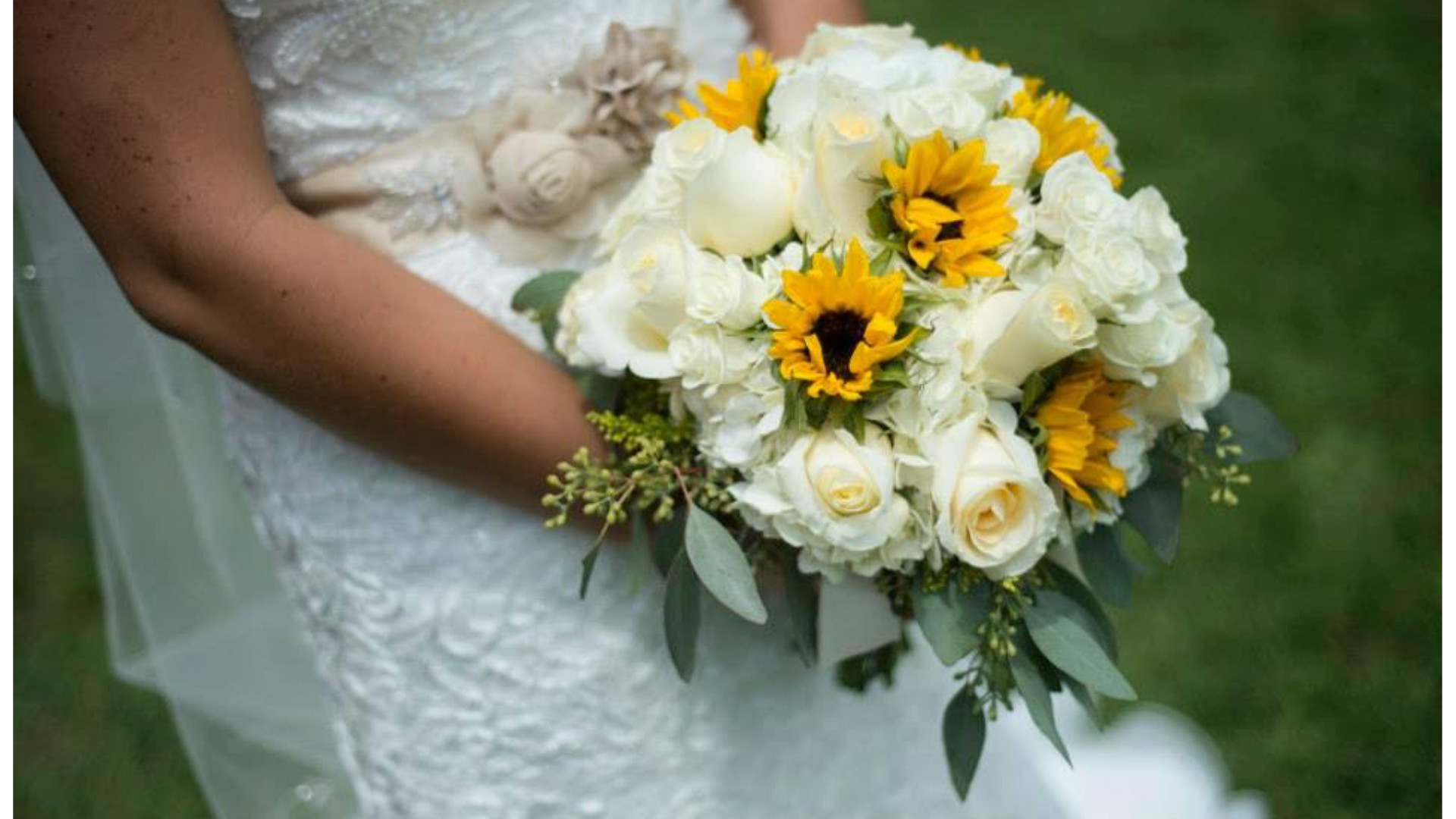 Sunflower Farm Wedding
Flowerama Columbus has a long history of providing the best flowers in Columbus. From our first store opening on June 23, 1990 to our four convenient locations in the Columbus area today located in Columbus, Ohio, Reynoldsburg Ohio, Westerville Ohio and Whitehall Ohio you will receive the best floral products and the most professional service provided. No matter what your need, our convenient online ordering system available by logging into Floweramacolumbus.com also offers same day delivery of fresh flowers and roses across town and throughout the United States! Orders that are placed on line or over the phone will be processed immediately and filled through the local Flowerama store or through the Teleflora network of fine florists. We look forward to serving you!
Today, Flowerama Columbus has three generations of family members and every single one has worked in the flower shops at one point of their lives. In fact, at least one member from each generation is currently working in the flower shops in one way or another. Now this is not always the case, because some of our youngest generation travels off to college from time to time, but they often help out if only at the holidays. Flowerama Columbus offers four great locations where you can shop. However, if you prefer online shopping, we have made a large investment in our computer system allowing you the a user friendly environment to browse our products and then have them shipped any where in the country.
Thank you for reading our blog. Please stop into one of our convenient locations or visit us online. We will prepare that perfect flower arrangement to help make your wedding day spectacular and memorable with our beautiful flowers!